Today most organizations have realized the importance of effective internal communication and has been discussed in the professional context for quite a while.
The academia has listed a long list of requirements for communication: two-way, clear, understandable, efficient, fair, inclusive, engaging, measurable, coherent etc.
Some even say that communication is the essence of any business.
It is evident that if communication is handled well, it's likely to drive business success.
That's why more and more organizations are resorting to communication tools intended for exchanging information.
The assortment of the options available is naturally enormous – ranging all the way from conventional emails to up-to-date mobile messaging.
However, not all communication is similar. The objective of interacting with other people is purely situation-bound. For example, sometimes you might just want to ask your colleague for lunch but other times a whole new product is to be developed or a strategy formed.
Luckily, the wide selection of tools allows you to choose the ones that best fit to your needs and help you meet your communication goals.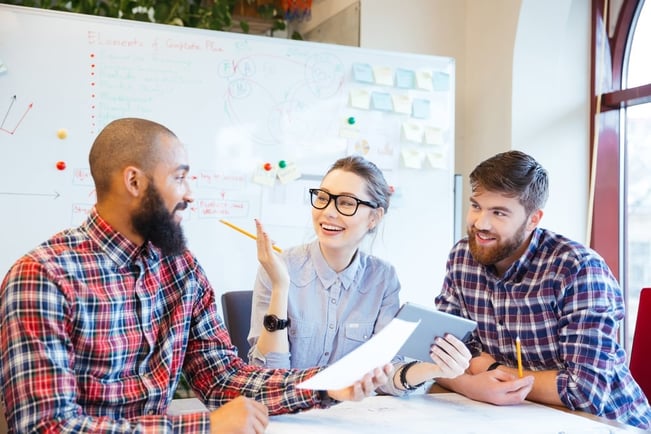 Many companies are already familiar with social intranets and enterprise social networks such as Yammer or Workplace by Facebook. Also, team chats like Slack has taken its place as a central messaging channel in various business units.
However, in our opinion, internal communication cannot happen only independently of tasks but it should be linked to real jobs. This way the tool acts as a context for the work to be done.
For project management, companies use for example Trello and JIRA. Some highly innovative organizations that have adapted idea management tools, such as Viima, into their communication package.


Internal communication cannot happen only independently of tasks but it should be linked to real jobs.

From this multitude of tools arises the question when to use which instrument and how to best form a functioning combination of them.
In this post, the aim is to tackle these problems by clarifying the differences between internal communication tools* and innovation or idea management tools** from our point of view.
Let's start by comparing the features, then continue to discuss the solutions on a deeper level. By doing so, we will increase our understanding on when to use which tool.
* Note that the focus is not in any particular internal communication tool, but our perception of them in general.
** Notice also that we base our views on the features of our own tool, Viima.


Exploring the jungle of features

The user interface (UI) is important because it gives the first impression of the software to the user. Especially today people value simple UIs that help them to do what they were planning to do effortlessly.
Internal communication tools have a chat-style views that support internal news publications and daily operative discussions.
They usually organize content in a chronological flow of messages. Viima, in turn, has built its interface to structure idea management and encourage collaborative innovation. Here the creative input is organized topic by topic in a bubble-like entity that gathers all discussion related to an idea in one place.



Organized structure
In any platform where a lot of content is collected, an organized structure is crucial. Viima automatically sorts ideas into categories. These categories can also be used to filter and sort information from the mass.
If internal communication tools are for some reason adapted to ideation purposes, each category of ideas (like brand building or production issues) would need a dedicated discussion. This is not optimal as the number of different dialogues is already high without separate channels for talking about each innovation-related topic.


Prioritization of ideas and analyzing performance
Evaluation and prioritization are useful features always when you need . Most internal communication tools show all messages as equal on the same feed and do not allow systematical evaluation of ideas nor recording of the results. In our idea management software, the admin can choose parameters with which the users can assess the ideas. These quantitative figures will help in the prioritization of the initiatives.
Besides, managers wish that tools would help in managing innovation. That is why Viima follows the whole development process of ideas from creation to implementation so that every participant stays on track of the current state of the initiatives they are interested in.
There are also reporting functions allow which leaders to monitor indicators related to innovation. The idea management process is of the utmost importance for the effectiveness of these activities. On the contrary, communication tools lack the ability to show progression and analyze performance.


Flexible, user-friendly adaptation
When it comes to innovation, it is advisable to utilize all sources of creativity. Communication tools are limited to internal audiences while Viima flexibly adapts for engaging employees, customers or other stakeholders in ideation activities.
To encourage users to voice their ideas and thoughts, the platform should create incentives and give recognition to participants. This is something that Viima does by the means of gamification, which missing in habitual communication tools.
Many project management tools include some ideation features, but their functionality and usability are quite clumsy. Also, these additional modules can be limited because they must go with the terms of the main software and match the interface of it.
Thus, it is better to choose a more user-friendly idea management tool like Viima and then integrate it into a project management platform if needed.


Contrasting different solutions: idea management VS internal communication
As we are now familiar with some of the most important differences related to the features of communication and idea management tools, we can move on to reflect the solutions they offer more profoundly.
We have grouped these into four categories which highlight the benefits of idea management tools.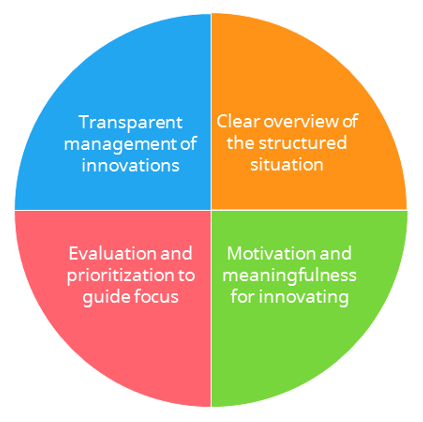 Transparent management of innovations
Traditionally, many companies have faced difficulties in managing ideas to innovations fairly and openly. If innovation management is done via ordinary communication tools, this tends to be still true. There are two reasons for it.
Firstly, the lack of a predefined ideation process that leads to multiple disconnected practices around ideation. Secondly, no ownership or responsibility for development of specific ideas are assigned which means that not many of them are finally executed.
Viima's tool specially built for idea management can solve these problems since transparency is incorporated in the software. An innovation funnel is set up in the beginning so that everyone can follow which ideas move through it to be implemented and which are discarded (but still stored).
Progression and reasoning behind it can be easily communicated to the relevant audience and decisions documented. Assigning responsibility and seeing what happens to one's own initiatives creates engagement to advance them in the process. All in all, transparent management of innovations adds to the effectiveness of the process and improves the participants' sense of fairness.

Clear overview of the structured situation
Understanding the ideation activity as a whole facilitates the management of the innovation portfolio. Communication tools do not support this since the information is scattered deep in various conversations. It is impossible to follow the current state of ideas in segregated flows of detached discussion and even admins cannot form any decent overviews.
These cons are basically due to the lack of support for structuring data. When it comes to ideation purposes, this means that information like name, description, category, comments, attachments or likes cannot be handled and saved in an organized manner.
On the other hand, Viima helps people in forming a clear overview of the ideation funnel. The idea management tool shows ideas that are for example trending, most liked, new, personally interesting, in different categories or stages etc. By doing so, synergies and dependencies between ideas can be revealed.
Moreover, Viima structures ideation and related discussion: ideas are inserted in the system in a standardized way and comments or attachments are always found under the right topic. This way, the attention stays on the essential: collecting and developing ideas.

Evaluation and prioritization to guide focus
Most tools that are developed for mere exchange of thoughts do not allow assessing inputs and sorting or filtering them based on these estimations. Thus, it is challenging to evaluate which projects should be on top of the priorities.
A risk for subjective decision-making comes into play if any sort of qualitative nor quantitative comparison is not made. There is also the possibility of similar ideas being developed at the same time if the synergies, dependencies and common potential of the individual propositions are not identified.
These issues have been taken into account in well-thought-out idea management tools like Viima by making evaluation and prioritization built-in characteristics. To refine the best ideas that can be developed into profitable innovations, it is critical to have indicators that show their estimated potential.
This information forms a reasonable basis for selection and decisions. What is more, in Viima the parameters on which the ideas are evaluated can be customized according to the situation. Finally, overlapping initiatives can be merged to create synergies and avoid unnecessary work.

Motivation and meaningfulness for innovating
If there is no established way for promoting innovation in an organization, people might lose their motivation towards contributing to the renewal. With tools intended for internal communication, employees can think that it is difficult to participate in the disorderly conversation and that ideas get lost in the rest of the talk.
In addition, hierarchies and group dynamics might hinder the ideation activity of some members of the community. Due to these facts people might feel that their ideation effort is in vain.
Viima as an idea management tool attacks this problem by institutionalizing practices for innovation in the company. This helps building a culture that values creativity and adds meaningfulness for participating in innovation activities. No ideas are lost, responsibilities are assigned and all opinions equal.
Also, gamification through points and public recognition creates purposeful incentives that spark creative ideation and constructive refinement of the ideas. Because of encouragement and responsibility people become more motivated and are ready to engage in innovation.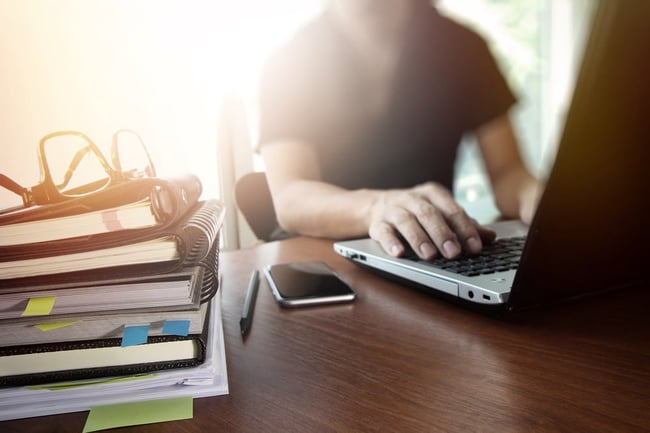 Getting the most out of both worlds
As we have noticed, there are remarkable differences between internal communication tools and idea management tools. Naturally each tool is better for the purpose it is designed for.
According to us, the optimal place for communication is the same platform where the actual job is done and that is why we do not recommend internal communication tools for innovation purposes. From our perspective, the issue rather how well the idea management tool you have chosen works as part of the company infrastructure.


Great integrations
Many organizations have already adopted a system for internal communication that they feel comfortable using. We have taken this into account in Viima so that bridging the gap between the newly adopted innovation tool and established ways of communication is effortless. Thus, Viima integrates seamlessly with many of the most commonly used internal communication tools such as Yammer, SharePoint and Slack.
This is just a beginning, though, since we are constantly working on new integration possibilities with more project management software and HR systems. Of course, Viima's intuitive user interface also eases its painless adaptation.


Effective communication
Through the implementation of Viima, several companies have simultaneously managed to boost interest around their innovation initiatives and dramatically improve the effectiveness of their internal communication.
Concentrating collaborative ideation efforts from communication tools to Viima has firstly improved employees' understanding of the innovation happening in the organization and secondly left communication channels for the purposes they were meant for. All this has nurtured a more fruitful culture for sharing information and contributing to company development at large.
One concrete example of a best practice in merging different tools successfully is from a medium sized Finnish company. They launched Viima as an encouraging place for gathering ideas and collaboratively refining them further.
After the ideas had been formatted and chosen to be implemented, they were moved to a project management platform, Trello. Only the ideas what were evaluated and prioritized highest on Viima were put forward to this project management platform to be split in smaller tasks with deadlines. There, teams that were assigned responsible for the ideas worked on the concrete actions that advanced the idea forward in the funnel.
While executing these tangible smaller action steps, teams were communicating by sending instant messages on a team chat, Slack. When bigger steps were taken and ideas realized, all parties concerned received the information via Viima.
This way of working helped the firm to maximize their idea input and user engagement while other tools were kept clutter free. All the creative input was kept on Viima so the rest of the platforms contained only practical information.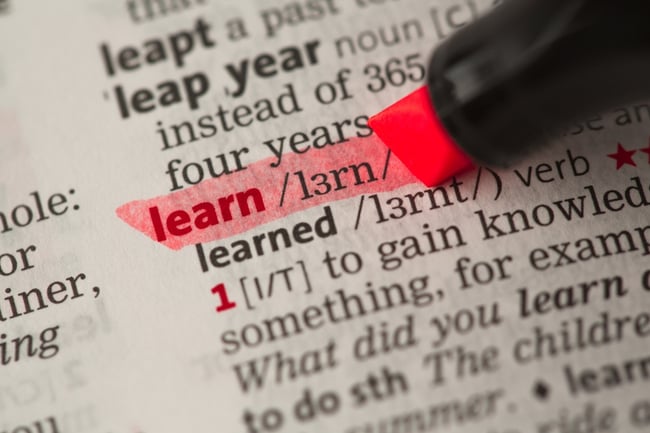 Putting it all together
When talking about internal communication, enterprise social networks and other internal communication tools are great for general everyday discussions.
Even though this kind of talk is needed in organizations, communication tightly related to the essential – value generating activities – is where the focus should be.
Both effectiveness and efficiency of communication increase if it can be done parallelly with the actual job in a transparent manner.
Consequently, purpose-built tools, like Viima for idea management, are absolutely necessary as well. Both kinds of tools have their own capabilities including pros and cons, but neither can do the other's job.
The role of an innovation management solution is to facilitate innovation by providing a structured and transparent process and motivate the participants. To conclude, it is worth keeping in mind that that all tools used in a company should form an ensemble where different parts complement each other.
Please contact us for personalized advice to
enhance innovation-related communication in your organization.
This post is a part of our Idea Management blog-series. In this series, we dive deep into the different areas of idea management and cover the aspects we think are the most important to understand about managing ideas.
You can read the rest of the articles in our series covering idea management by clicking on the button below. Don't forget to subscribe to our blog to receive updates of our upcoming content!