Every innovation starts from an idea.
Idea management is the systematic process of collecting ideas, then refining, prioritizing and implementing them to make innovation happen. The right software helps you throughout the process.
Collect
Collect ideas from your employees, customers, suppliers, and other stakeholders. With Viima, it's all a breeze.
Prioritize & Develop
Ideas are just the beginning. Viima helps you build a systematic process for picking the rights ones to focus and turn into ideas.
Analyze
The best innovators are constantly looking to get better. Viima helps you fix bottlenecks, speed up decision-making, and make more innovation happen.
Automate
Managing ideas, building a community, and enforcing processes can be a lot of work. Viima helps you automate routine tasks so that you can focus on innovation.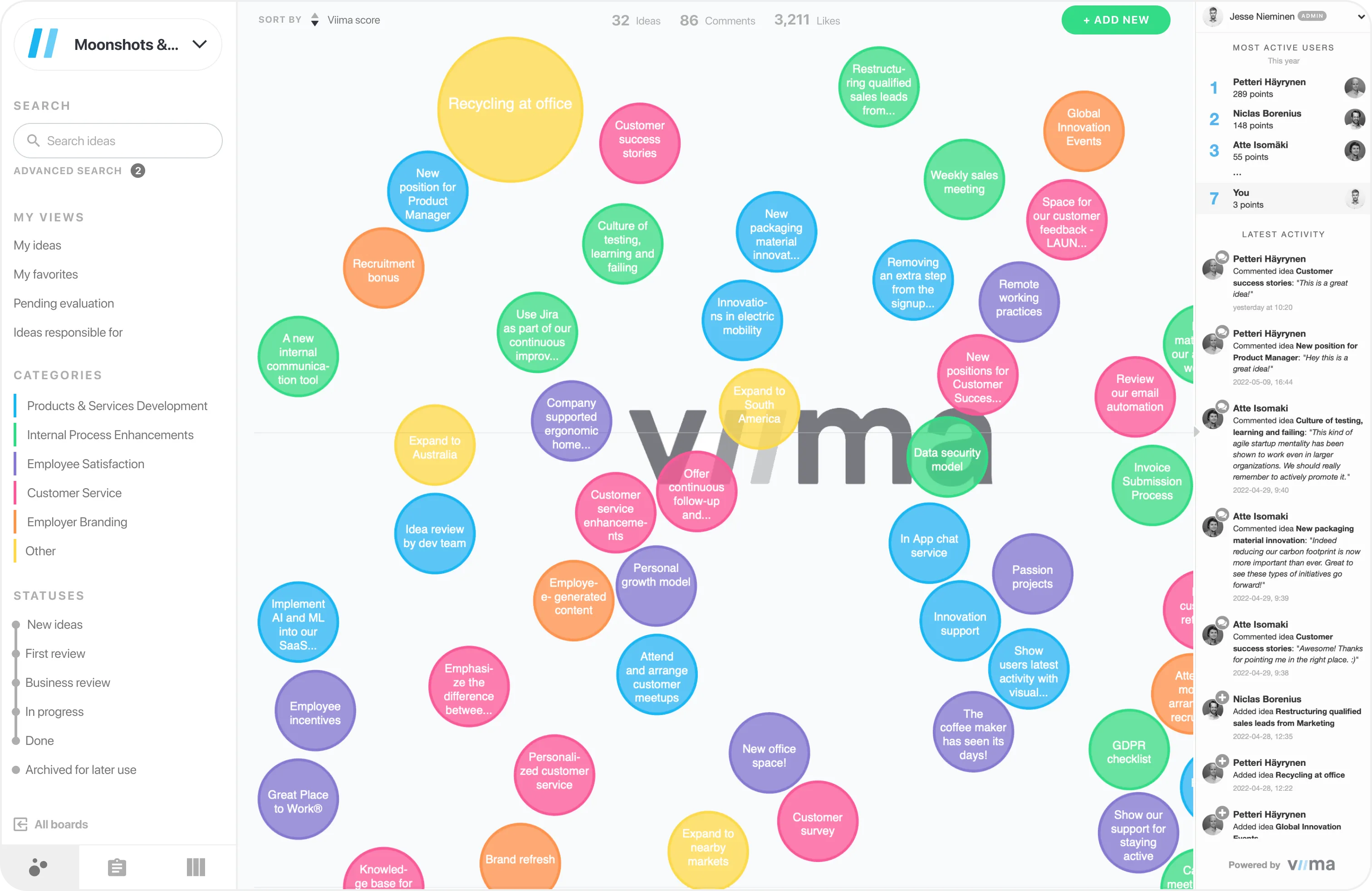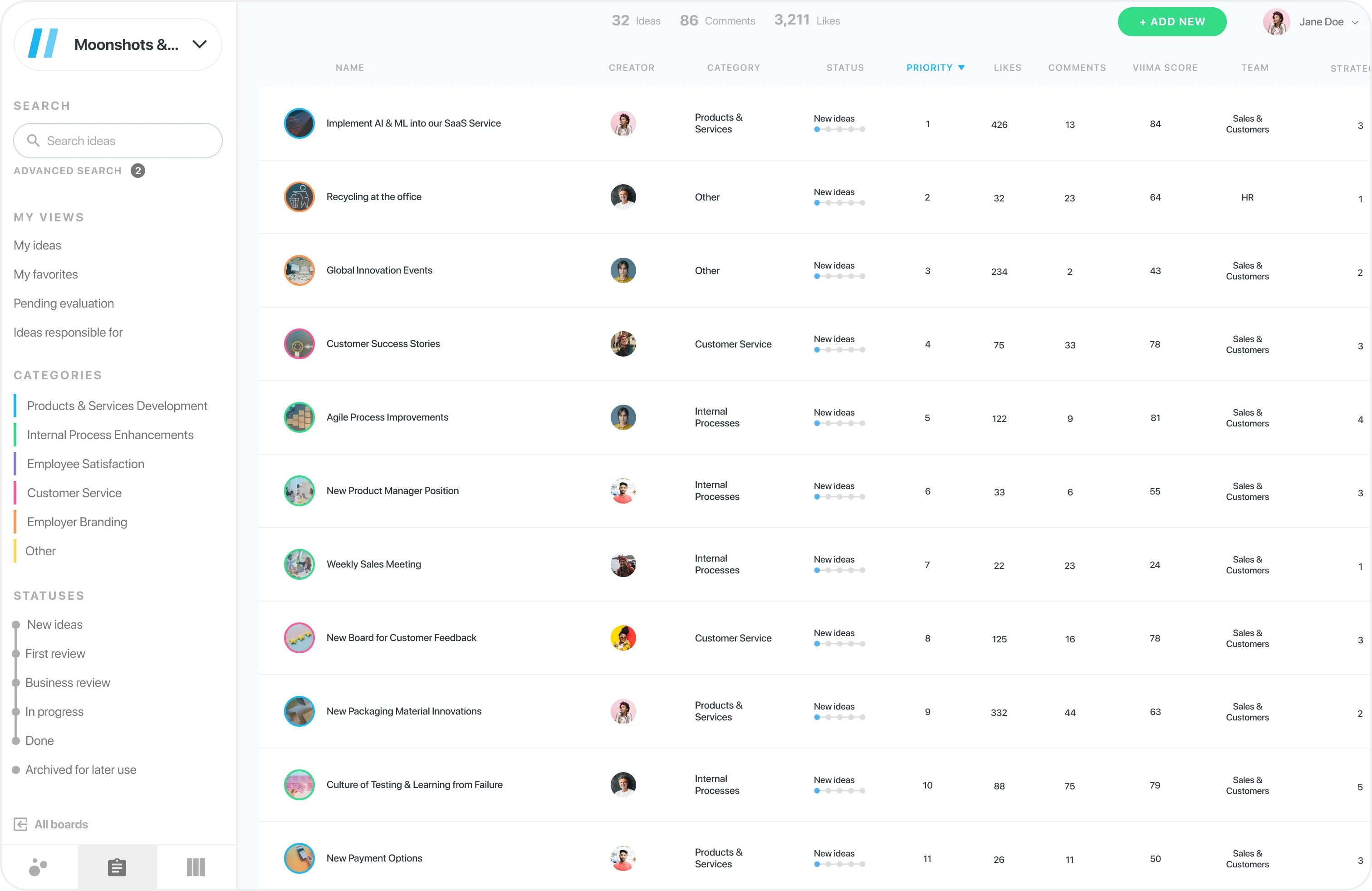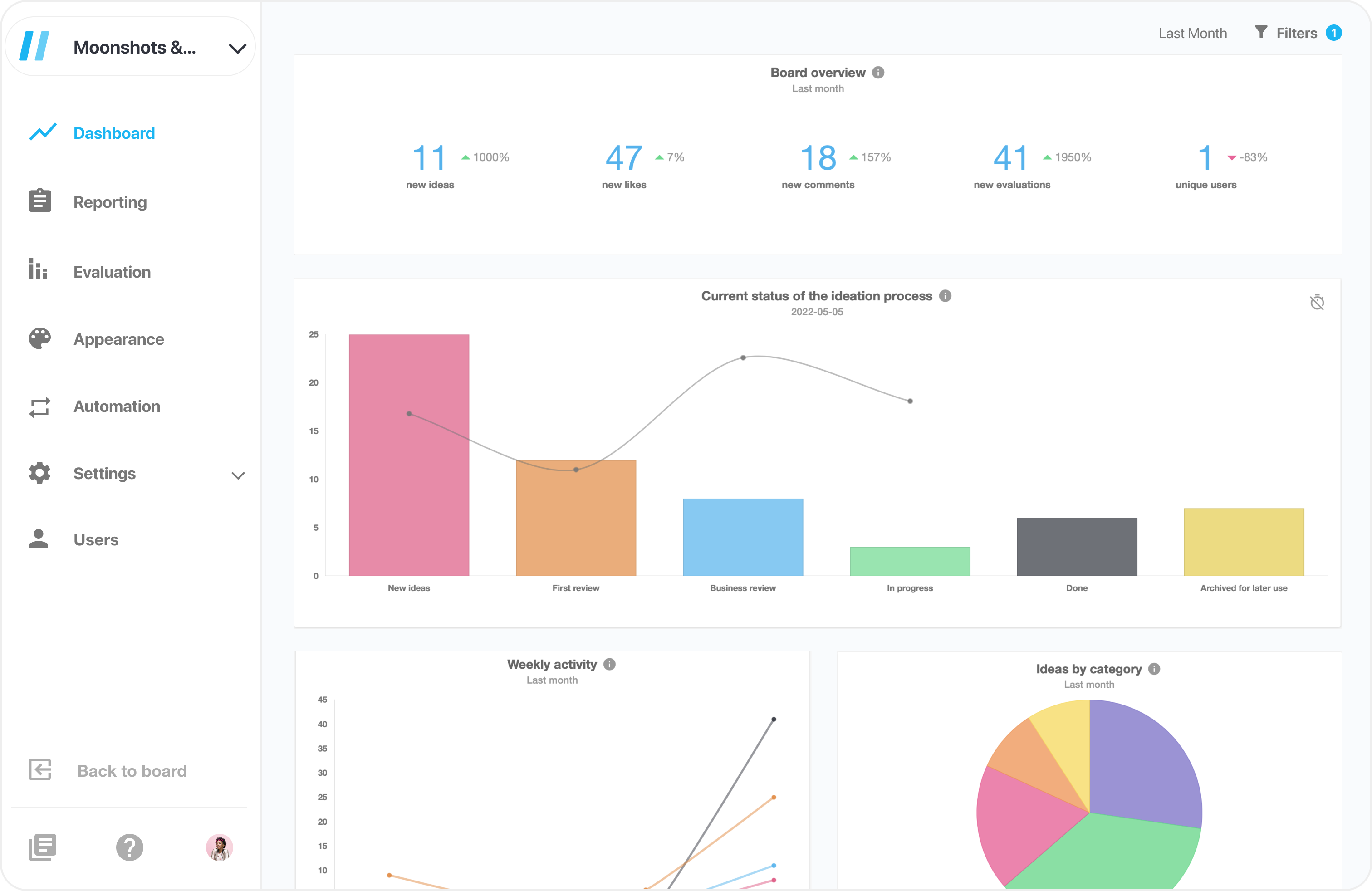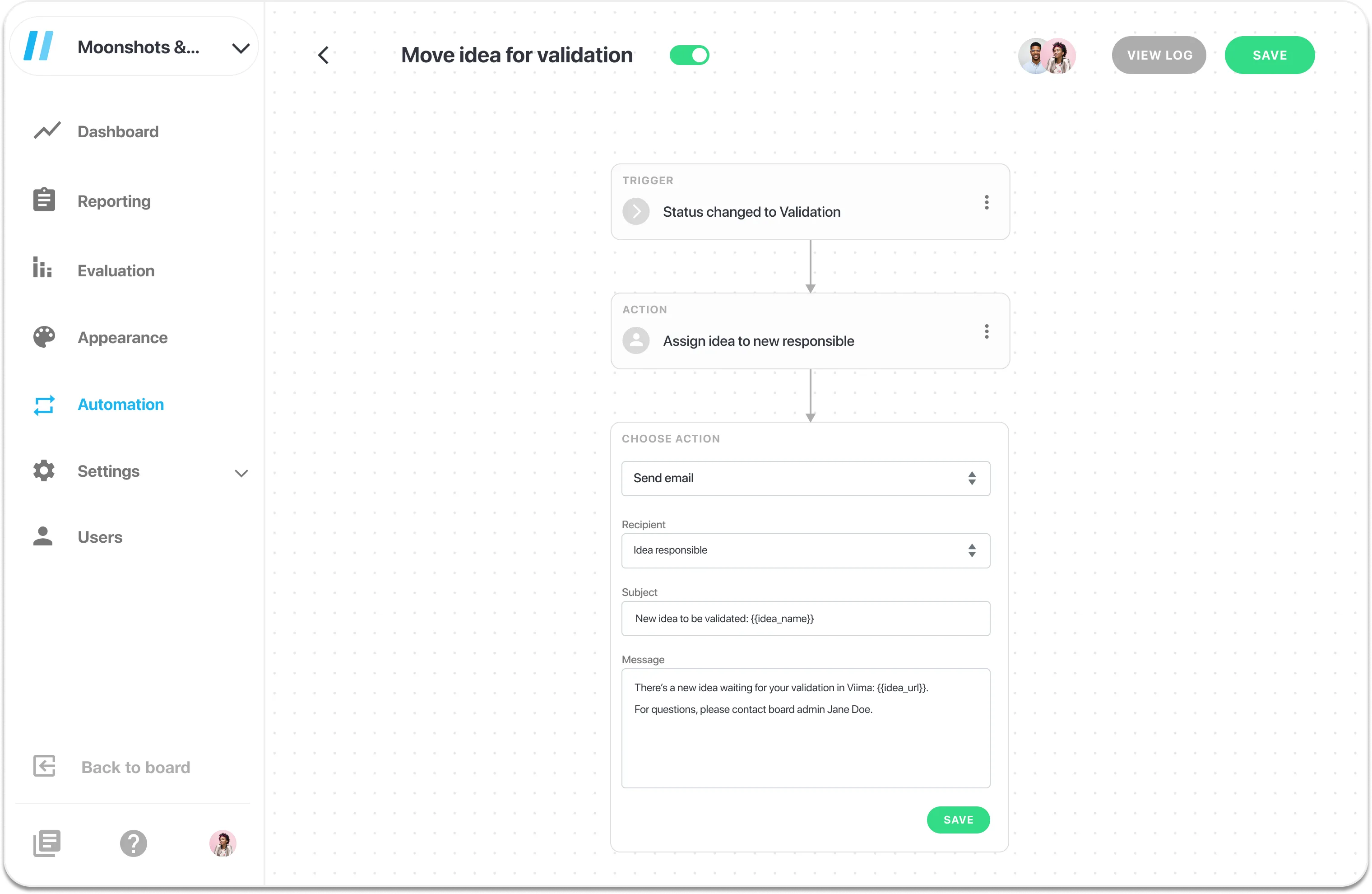 The result? More, better ideas.
A great idea management software is simple and easy to use, yet versatile enough to work for even the largest organizations. Viima makes it easy for you to collect more, and better ideas by giving you the tools to create and manage your own ideation process, from start to finish.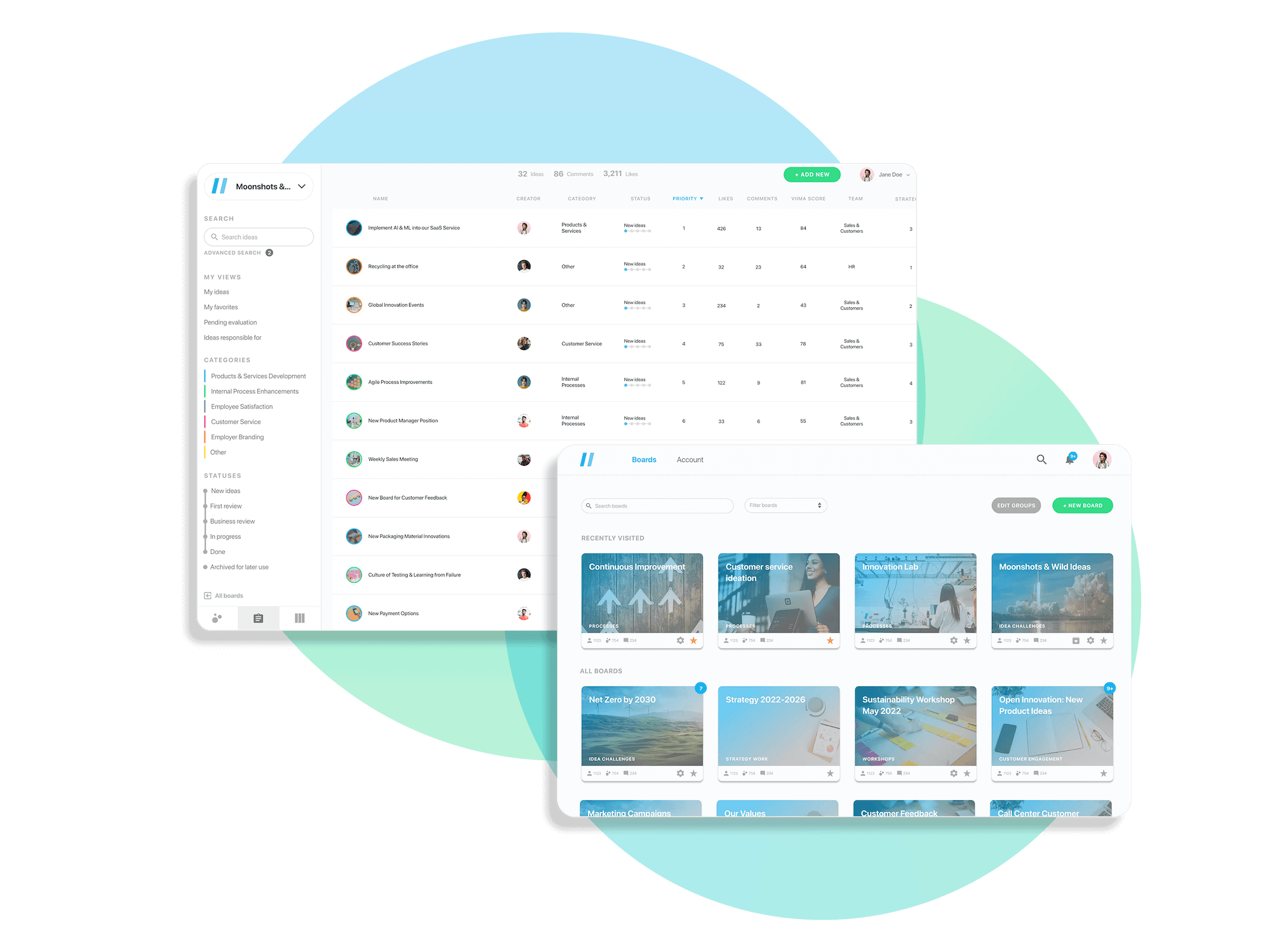 from ideas to innovations
Our uniquely fun and playful approach to ideation is guaranteed to get people's creative juices flowing.
Effortless management
Viima makes your job easy so that you can focus on what matters: innovation. For example, ideas are categorized and the right people will automatically be notified.
Model your own process
A systematic process is one of the keys to long-term innovation success. Viima allows you to freely define your own process, no matter what it's like.
Balancing Simplicity and Flexibility
A
great innovation management software is simple and easy to use, yet versatile enough to work for even the largest organizations. Viima

strikes a perfect balance between

ease-of-use, competitive pricing and enterprise-grade flexibility and reliability.
Powerful visualization options
Our powerful visualization tools help you make informed decisions without taking too much time doing so.
Responsibility → Progress
Viima helps you make sure that someone is in charge of progressing the ideas
How others do it
RAY, the Finnish Slot Machine Association, which is now a part of Veikkaus and is owned by the Finnish state, has leveraged Viima to gather and cultivate fresh and thrilling ideas. By effectively harnessing the capabilities of Viima, they have successfully managed and advanced these ideas. Notably, they experienced a remarkable 271% surge in the quantity of ideas generated, with an impressive 63% of these ideas being further developed.

Discover how RAY, alongside numerous other organizations, use Viima to enhance their idea management process and transform more ideas into innovative solutions.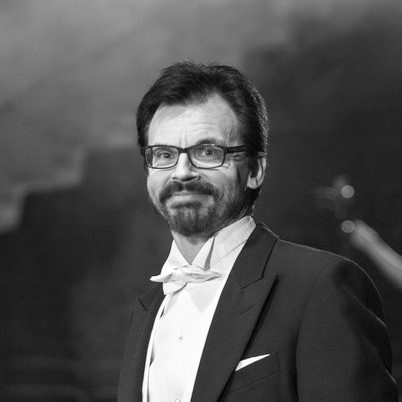 Viima enabled us to quickly get important information from our clients, customer service personnel and maintenance staff. We have successfully implemented many of the shared ideas!

I've always felt that Viima is a partner you can trust, as demonstrated by both the product and their service.
Learn how to drive innovation in your organization
The Innovation System coaching program was specially designed to take your innovation skills to the next level. 26 video lectures, 10+ editable templates, and peer matchmaking specially designed to help you acquire all the knowledge, skills, and tools you need to make innovation happen.
Our Articles on Idea Management