Innovation

embedded in day-to-day activities

How Viima is used by If, a P&C insurer, to improve customer experience and embody a new innovation culture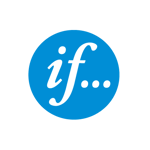 Industry: P&C insurance Size: 7300 employees Location: Nordic and Baltic countries

If is the leading property and casualty insurer in the Nordic region, with over 3.9 million customers in the Nordic and Baltic countries. If offers a full range of P&C insurance solutions and services to a broad customer base, from private individuals to large corporate customers.

If has 7,300 employees and handles over 1,4 million claims every year, half of them handled within 24 hours from reporting.
In brief, the outcomes of a a systematic use of Viima at If:
Over 15000 ideas submitted, 3000 implemented
Systematic and structured management of ideas that lead to improved customer experience
Thousands of incremental improvements added to an increased financial performance
Low threshold of participation allowed over 7000 employees to suggest ideas for improvement and helped them embody a new innovation culture
Ease of use allowed employees to include Viima in their day-to-day work
The Challenge
The insurance industry is highly competitive and challenging and it's facing pressure and disruptive threats from many directions. This has become even more apparent in the light of the COVID-19 pandemic when insurers had to speed up changes and developments that under different circumstances might have taken years to implement.
Increased competition, higher customer expectations and the need to meet evolving demands with new products and business models are some of the challenges the P&C insurance industry is facing today.
To overcome these challenges, If wanted to improve customer experience, surpass their expectations and accelerate the pace and quality of innovation.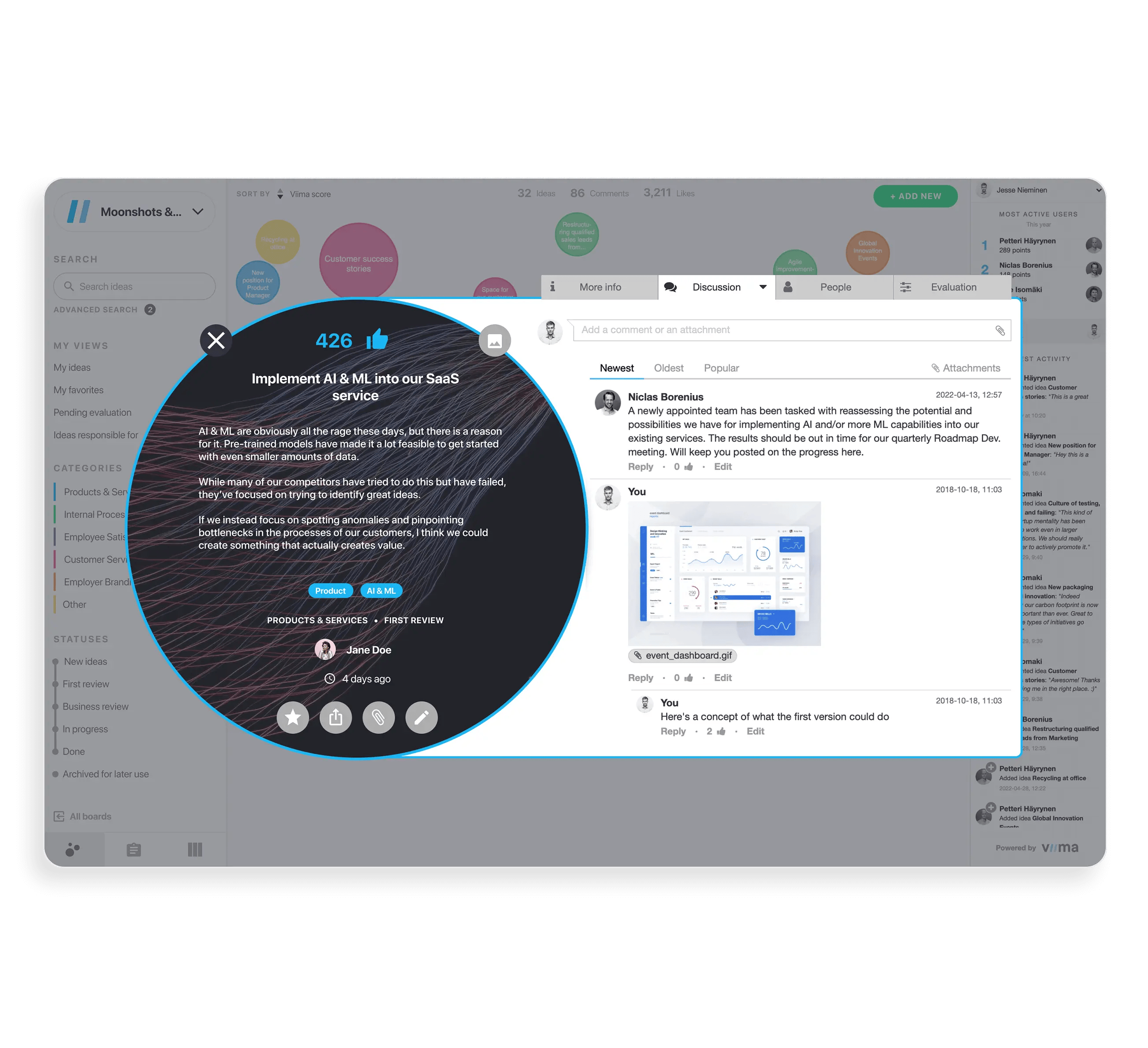 The Solution
To address this, If harnessed the wisdom of those who know the customers best: their employees. To access the knowledge of so many employees, they had to lower the threshold for participation in the ideation process and widen the scope of their innovation work to include the entire organization.
Gathering ideas and suggestions from so many people is no easy task and the right tools, communication methods and process make the whole difference.
In 2016 If chose Viima for the ease of use, simplicity and engaging experience and soon started deploying it in their offices across the Nordics.
If teams use Viima boards to collect ideas from frontline employees on a daily basis. Different teams have embedded Viima in their every-day work and made it their own, with some teams using it for standardized processes to evaluate automation ideas, while others use it for bottom-up engagement and different internal use cases.
If ideation board overview
Once ideas are collected on a board, the analytics feature provides an overview of the current situation. The data enables If to spot trends or potential bottlenecks in their ideation process so they know what to improve next.

The Results
In the first few years since Viima has been implemented, If had collected more than 15000 ideas, and over 3000 have already been implemented.
The low threshold for participation cultivated a work environment that not only produced great ideas but engaged people in proactive collaboration and instilled an innovation culture throughout the entire organization.
What's more, the implementation of these ideas resulted in new, award-winning products, comprehensive services, and increased customer satisfaction. While the ideation process at If is complex, strong financial results, higher retention rate and a growth in number of customers has been observed in connection with the new ideas generated in Viima.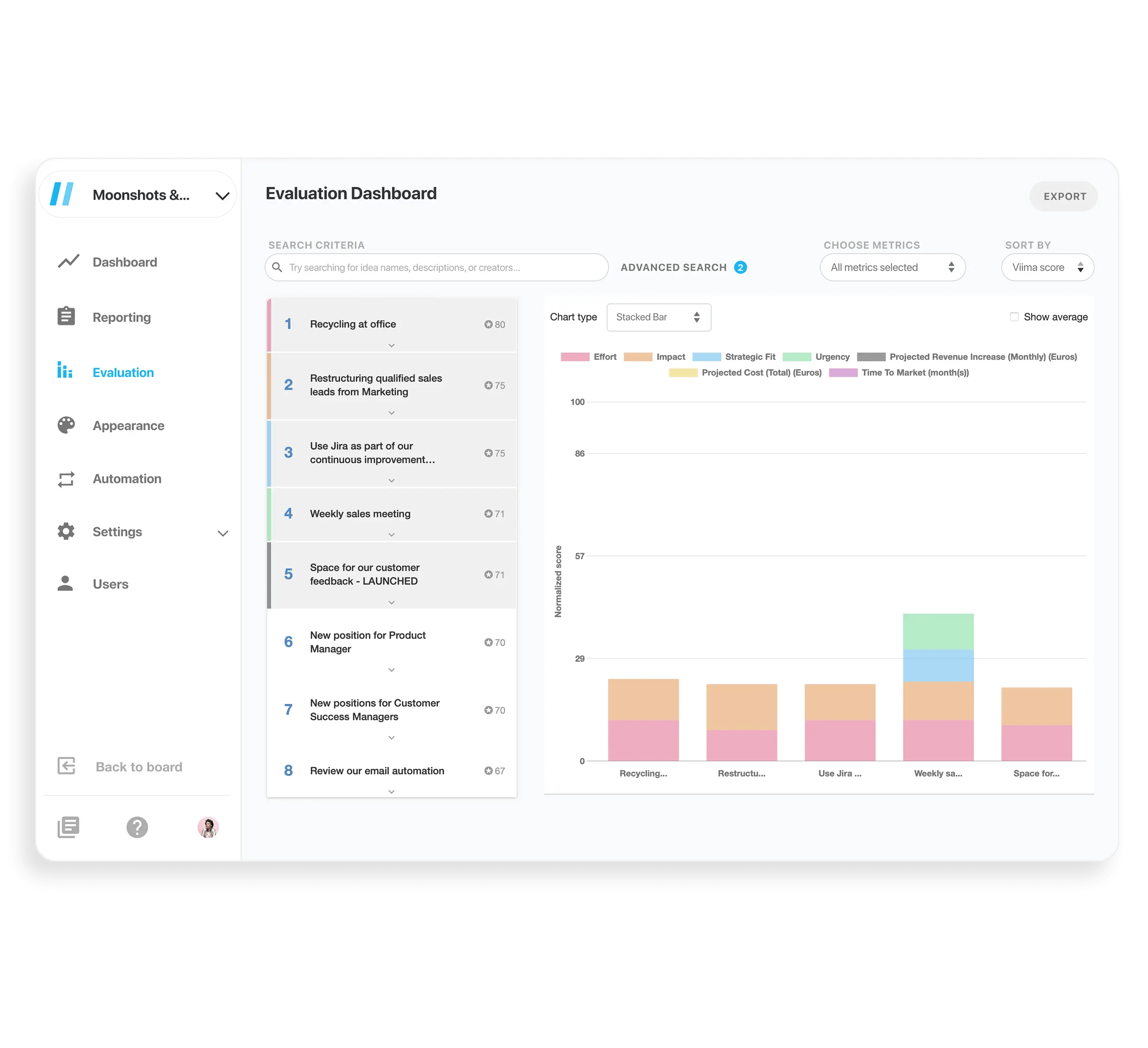 New ideas collected with Viima lead to new opportunities
Award winning insurance
The If pet insurance won the award for the best pet insurance in Norway, thanks to key improvements collected from the ideation process.
Customer service automation
Automated follow-ups decrease waiting time and the number of unnecessary calls which lead to increased customer satisfaction
Customers correctly insured
A new workflow of communication and a better automation process helped selling comprehensive insurances. More people are now correctly insured.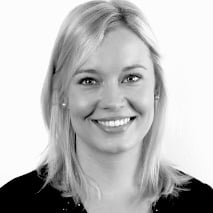 Continuous improvement requires the whole company from all levels to contribute with ideas for improvement and Viima is a great tool for that.
It allows employees across the company to suggest ideas for improvement. Viima is a very easy to learn, modern tool with a user-friendly interface. It also provides a lot of flexibility to those in charge of managing the ideas to analyze and develop them further.
I have found it very easy to work with Viima's team and we have already worked several years together. Great company and product!
Viima takes great pride in enabling innovation in forward-thinking organizations, like
If

.